It all started...
After having newborn twins, Chip and I found ourselves dreaming about the back country again. We longed for trips that surrounded us with complete solitude, towering mountains, and colorful alpine flowers (just kidding, we actually just wanted complete solitude). After stumbling upon a couple family travel blogs, we began to realize that maybe we didn't have to give up on this other piece of our lives we had before children, but instead find it in a different form. Here entered Spud (see below). After saving, planning, adventuring, dreaming, and scheming for over a year, we decided it was go time. We scaled back our hours at our 9 to 5's, purged most of our stuff, and began preparing our house to rent out.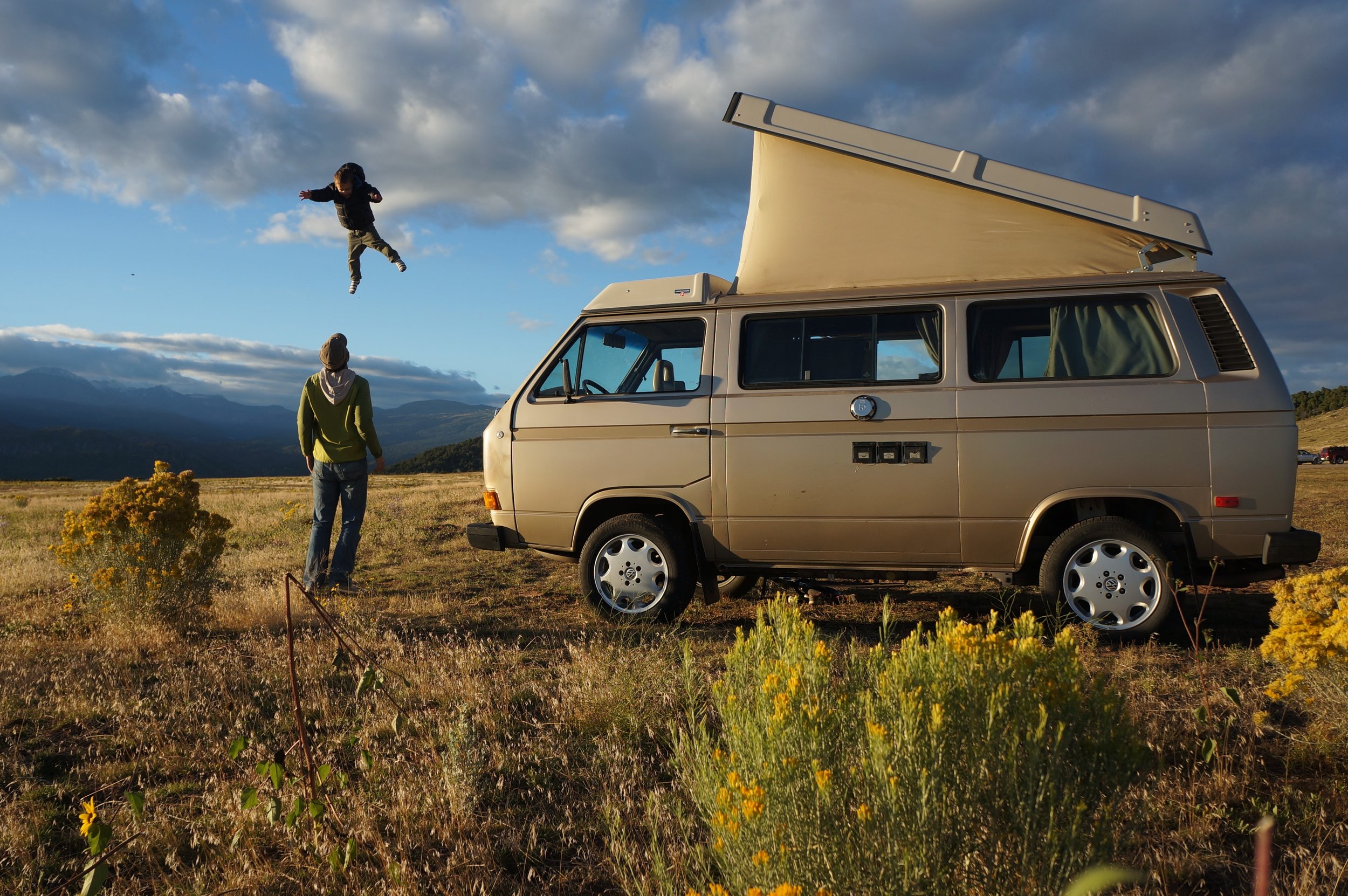 Spud
While previous auto purchases had involved hours of craigslist searching and drives to other states, Spud popped up for sale literally 30 seconds from my work. Knowing fate must be at play, we snatched him up knowing he'd be the best addition to our family. He's an '86 Vanagon Westfalia and has never left us stranded. To hopefully continue that streak, over the last year we've rebuilt the entire front end, brakes, axles, fuel system, auxiliary electrics, and replaced the tired original engine with one from a newer Subaru. To improve livability, we've upgraded to a modern fridge/freezer (ice cream!) and added a thermostatically controlled gas-fueled heater that keeps us toasty all night in colder temps. A 100w solar panel keeps us running in the boonies without toasting the batteries.
chip
Chip is our on-board chef and handy Westy mechanic. He grew up in Sandusky, Ohio working on old VW bugs and once the twins arrived, we opted for a vehicle that could take us all on adventures. Chip is the van cook, the D-jay for all our family dance parties, and he's a sucker for helping someone in need. He wears his heart on his sleeve (and his mood too!) and has definitely passed along his laid back "go with the flow" gene on to our boys.
Actual job: Family doc
lindsay
Lindsay is the planner and navigator extraordinaire, making sure we have directions pulled up and sights ready to be seen. She is emotional when speaking about how Spud has changed our lives, and can't get enough of a good travel experience (hence pleading for a year off). She enjoys a good run, hearing about other people's experiences and lives, and can't contain herself when she finds an ideal spot for a jump shot photo.
Side gig: Healthcare Recruiter for SCL Health (need a job?!)
reid
Reid will likely be the first person in our family to strike up a conversation with a stranger. I'd say he's probably the most outgoing person out of all of us. He is our storyteller and will likely talk about his latest meal, his newest truck, or where he and Bennett sleep (top bunk in Spud). He is obsessed with biking, driving his trucks around with Bennett, and he has an infectious smile that will light up a room (er, van). Reid lives big in all ways - big laughs, big cuddles, big heart, big emotions, and big jokes.
Reid's quote of the week: "Hey Bennett, I'm going to be right back. I'll text you in one minute."
bennett
Bennett has a sweet and more quiet demeanor about him at first, but once he opens up to someone new, his silly personality comes spilling out. He loves a good dance party, biking with his bro, and sings in the car for hours. He is generally the more cautious twin so he will likely be scoping out a situation before jumping in head first but once he does, he goes all out. Bennett gives the best compliments ("I like your head!"), he wears his sunglasses the minute the sun rises, and he doesn't let you leave until he's given you a hug AND a kiss.
Bennett's quote of the week: "Oh no, the beetle went to kevin." (aka heaven!)